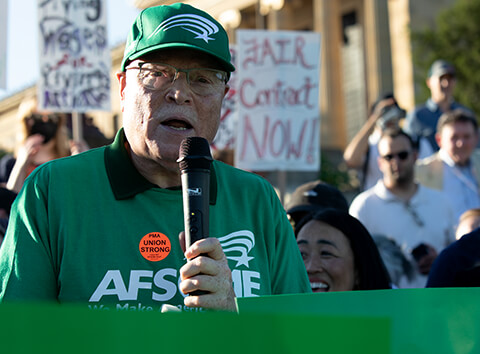 Hundreds of workers from across the country joined Philadelphia Museum of Art (PMA) workers at a rally Tuesday outside the museum to demand a fair contract.
The workers were joined by national labor leaders, including AFSCME President Lee Saunders and AFL-CIO President Liz Shuler, who were in Philadelphia for the AFL-CIO's convention.
"It's time to do the right thing," Saunders told the crowd. "It's time for the museum to end the stalling and the foot-dragging and the excuse-making. It is time for a fair contract!"
Saunders noted that the museum took nearly $11 million in federal pandemic relief assistance that was supposed to protect workers but laid off 127 workers. He recalled that the museum has a large endowment and receives support from the city to cover utilities and operating costs; top executives earn as much as $725,000 a year.
Yet, over the past 22 months, it has refused to negotiate with workers who demand fair wages, affordable benefits and basic workplace protections. It's been nearly two years since PMA workers formed a union through AFSCME District Council 47.
Amanda Bock, an assistant curator of photography at the museum and member of AFSCME Local 397, told rallygoers that the prestige of working at the museum has been used for far too long to deny workers fair wages and benefits.
"As the saying goes, you can't eat prestige," she said, later adding, "My colleagues and I are here today because we know we can protect each other by winning a fair contract. A contract with guaranteed raises and competitive salaries. A contract with health care we can afford to use. A contract with paid parental leave, so we don't have to choose between having a career and having a family."