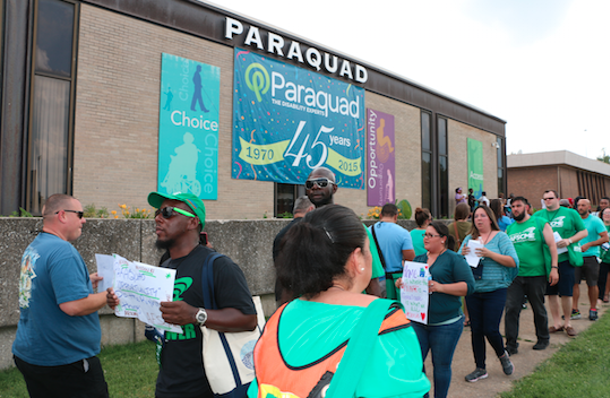 ST. LOUIS – Young AFSCME members from all over the country gathered June 12-14 for the third annual Next Wave Assembly, getting an opportunity to strengthen their organizing skills, rally for Missouri home care attendants and connect with a network of future labor leaders.
The first message the Next Wave activists got, however, is that the future is now. "You aren't the leaders of tomorrow," AFSCME Pres. Lee Saunders said in his opening remarks. "We need you to lead today."
AFSCME Strong was front and center this year, and the activists broke into nine groups for all-day training, learning the one-on-one organizing skills necessary to educate and mobilize members.
The Next Wavers also put their training to use in Missouri, with 50 attendees visiting state facilities and talking with workers – and signed up more than 30 new union members. Also, 200 of the activists marched in solidarity with Missouri home care workers whose contracts were not being implemented by home care vendors.
"I have no words to describe seeing all of these people standing in the heat as we demanded respect for our contract. It gives me hope and I am resolved that we will continue fighting," said Mary Woods, a consumer and Missouri Home Care Council member. The rally sent a clear message to Paraquard, the largest home care vendor, which agreed to meet with home care attendants the following week.
Attendees also attended workshops and talked about their experiences in their locals. David "Big Daddy" Bride talked about how he helped sign up more than 400 PEOPLE MVP members – 80 percent of the Indianapolis public works unit – in a three-week blitz by Local 725, part of the Indiana-Kentucky Organizing Council 962.
"We have 512 workers in our bargaining unit and would you believe me that we have 511 dues paying members?" Bride told the group, noting that Indiana has imposed a "right-to-work" scam on workers. "And whoever that 512th guy is – well I haven't found him yet, but don't worry – I will … for real."
A PEOPLE party featured karaoke competition and raised several hundred dollars – part of nearly $6,000 raised by the young activists for AFSCME's political action fund during their three-day event.