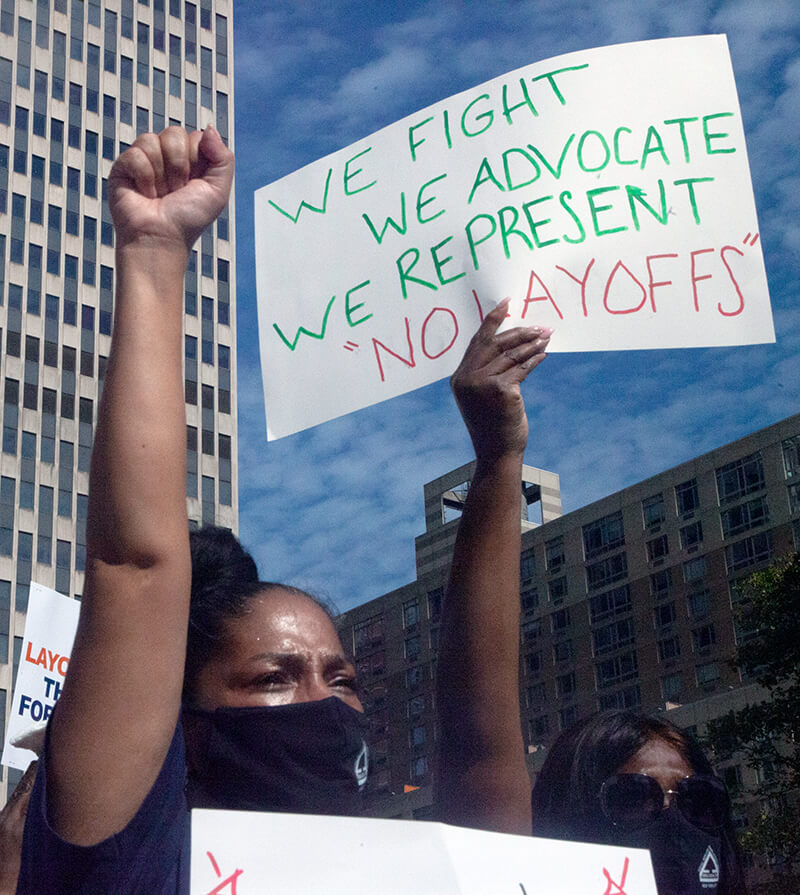 AFSCME District Council 37, New York City's largest public employee union, has reached a no-layoff agreement with the city that will save the jobs of thousands of municipal workers through fiscal year 2021.
After months of organizing rallies and waging a robust digital campaign to combat the up to 22,000 layoffs that were announced earlier in the year, DC 37 and other union partners in the city negotiated a no-layoff deal with Mayor Bill de Blasio.
The agreement will save the City of New York $164 million by deferring payments to the union's welfare funds in exchange for no layoffs through June 2021. The agreement further stipulates that if the city is granted $5 billion in budget relief, the no-layoff agreement would be extended through June 30, 2022.
DC 37 officials confirmed that the welfare payment deferrals will not affect the union's ability to provide benefits to its members.
"Our responsibility as union leaders is first and foremost to protect the jobs of our members," said Henry Garrido, DC 37's executive director and an AFSCME vice president.
"DC 37 members have allowed the city to maintain – and in many ways, pivot – to providing necessary services to New Yorkers during these challenging times," he added. "We should all be appreciative that they may continue to do so without the threat of layoffs. We will continue to push all levels of government to fund the front lines in practice, not just in rhetoric."
New York City has been one of the areas hardest hit by the COVID-19 pandemic. With the second surge expect to continue into the fall and winter months statewide, the nation's most populous city is once again experiencing an alarming spike in cases.
DC 37 members work as emergency services professionals, 911 dispatchers, water treatment specialists, cafeteria workers, and in scores of other professions where workers are in daily contact with the public. The front-line nature of their work was the focus of the campaign against these layoffs, showing that these employees are vital to the city and layoffs are nonnegotiable.
"At a time when our country is experiencing catastrophic losses, I am happy the political leadership of New York City worked with the union leadership of DC 37, Local 372, and Local 371, to avert layoffs for the city's most vulnerable workers," said Shaun D. Francois I, president of DC 37 and Local 372.
"The human cost of layoffs would have been felt throughout the entire city," Francois continued. "By taking these responsible steps, this agreement ensures that workers who have been here the whole time through this pandemic will continue to serve the students and families of New York City while supporting and providing for their own loved ones."
Anthony Wells, president of Local 371, thanked those who organized and negotiated the deal, saying, "Workers' jobs have been saved. Lives are protected. We thank all who helped. City fiscal issues require cool heads, negotiation and commitment. This is a first step."
Due to the pandemic, many cities and municipalities have felt budgetary pressures while their communities desperately need the essential services public service employees provide. A robust state and local aid package from Congress to fund the front lines is vital and must be passed as soon as possible.