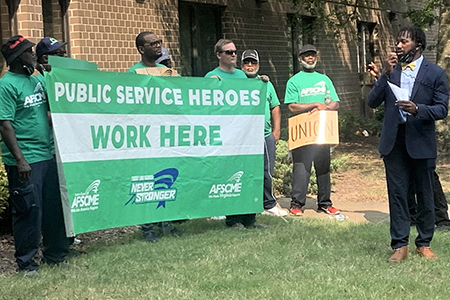 NORFOLK, Va. – With high employee turnover, low and stagnant wages, pandemic-related layoffs and chronic cuts to city services and resources, AFSCME Virginia members are demanding real solutions – starting with local laws allowing them to form unions.
AFSCME members, community residents, and faith and political leaders came together last week outside the still-closed Park Place Community Center to address the city of Norfolk's employee crisis. AFSCME released a report detailing the impact of low wages and high workloads on city workers and shared it with members of the Norfolk City Council.
"I have worked for the city of Norfolk for over nine years and continue to make only a few dollars more than when I started," said Jennifer Webb, a worker who spoke at the event.
Webb can't afford the city's family health care plan and relies on Medicaid to make sure her children get the care they need.
"I am a single mother of eight and cannot afford to take care of my family on my current city income alone. I can't even afford the city's insurance," she said. "I have no choice but to use services like food pantries, rec center scholarships and discounted health care and prescriptions while working multiple jobs just to make ends meet. The city of Norfolk must do better for its employees."
Norfolk has continued to grow at 1.3% yearly, but it has consistently seen a decline in its full-time work force, according to the AFSCME report. Before the pandemic, the city cut 900 positions. During the pandemic, it furloughed, then laid off, 57 full-time employees, the report found. City management is requiring workers to provide services to a growing community with limited resources and a shrinking staff.
Velma Owens, a utilities crew leader for the city, recognizes that fewer employees translate to limited services to Norfolk residents.
"It was a shame they laid off library and parks and rec employees during the pandemic," she said. "Many communities are suffering because their libraries and recreation centers cannot reopen because they don't have enough staff."
Norfolk has emerged from the pandemic in better financial health than expected. The city is also slated to receive an additional $154 million through the American Rescue Plan – legislation AFSCME members fought hard to pass – and there are fewer restrictions on how these funds can be allocated. However, the city remains silent on its plans for the money and has not requested employee or community input.
Norfolk can forge a new path by passing an ordinance making their city employees the first in the Hampton Roads region to secure a voice on the job by forming a union. The city of Alexandria and Arlington County, both in the Northern Virginia suburbs of Washington, D.C., have already passed such laws.
Collective bargaining would give Norfolk employees a say in their working conditions – and a measure of control in their livelihoods and the ability to offer their knowledge and expertise in the work they do.
Calvin Thompson, an equipment operator for the city who first started as an intern, is committed to providing quality public services to his community. He believes many of the problems facing the city can be resolved if employees had a real voice on the job through a union.
"We are ready for a change," Thompson said. "We are ready to take control of our lives and our own destinies. City of Norfolk employees are ready to form their union, raise their voices and work together to bring real change to the city."