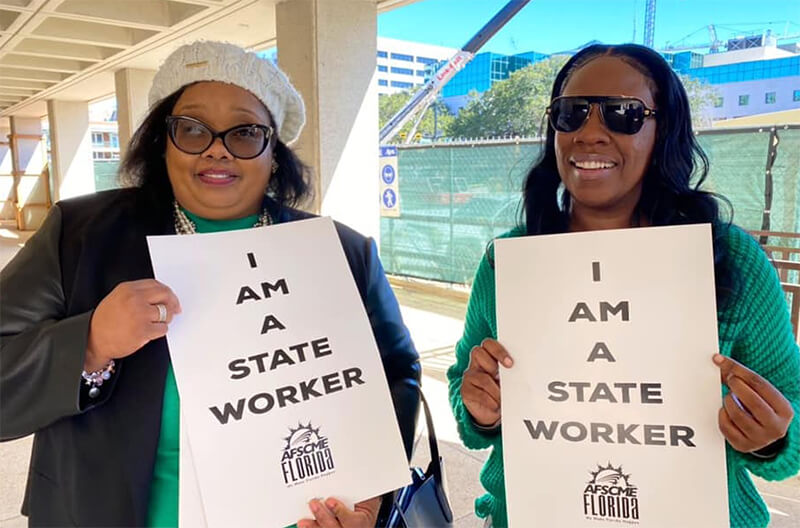 TALLAHASSEE, Fla. – After staging unprecedented rallies in several cities across Florida and then waiting for months, state employees rejoiced after Gov. Ron DeSantis signed the state's budget, which includes 3% across-the-board pay raises for dedicated workers who keep the Sunshine State's infrastructure going in good times and bad.
It was the first such pay bump in 12 years for Florida's state workers, who are among the lowest paid in the country.
DeSantis signed the budget into law on June 29. State employee raises will go into effect Oct. 1.
It was a hard-fought victory that would not have occurred without state employees from the Florida Panhandle to Miami standing together and fighting as a union. 
"For years, our state employees have worked tirelessly to make this state happen every day for meager wages," said AFSCME Florida President Vicki Hall. "This is a historic moment for AFSCME that proves the power of collective action."
AFSCME members across Florida organized large rallies and press conferences calling for legislative action after workers and the State of Florida hit an impasse on wage increases during contract negotiations last November.
"When the governor signed this into law today, the State of Florida made a public declaration of the importance of state employees and the critical work they do for our communities," said Jacqui Carmona, AFSCME Florida's political director.
She thanked Florida Senate President Bill Galvano and Senate Appropriations Committee Chairman Rob Bradley "for making this a major priority this session and being great partners in passing this raise for Florida's essential front-line workforce."
As the COVID-19 pandemic surges once again across Florida, the state's essential public service workers continue to rise to the challenge of protecting the state's communities and keeping the state's services intact in the most challenging of times.