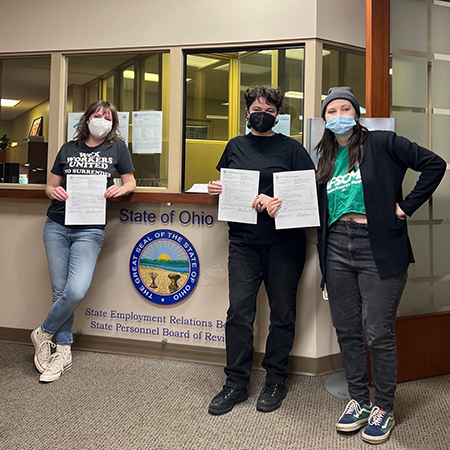 COLUMBUS, Ohio – Members of Wex Workers United have won their union election in a unanimous vote.
Following the March 22 vote, the union formed by the employees of Wexner Arts Center through AFSCME Ohio Council 8 was legally recognized by the Ohio State Employee Relations Board. Employees will soon begin negotiating for the changes and improvements that compelled them to organize in March of 2022.
More than a year ago, Wexner Center for the Arts employees joined together to form Wex Workers United, an employee union to advocate for a fair and equitable workplace, the right to negotiate for wages and benefits and provide a collective voice to address important workplace issues like safety.
Wex Workers United organized with Council 8, a leader in helping museum and cultural workers across the state organize workplace unions. They will also become part of the Cultural Workers United – AFSCME family, the premier organizing campaign that is showing workers at museums, libraries, zoos and other cultural institutions how to build power.  
Wex Workers United engaged in a campaign that drew support from community and arts organizations, public and elected officials and unions from across the state. The campaign circulated a community support petition that garnered nearly 1,300 signatures and submitted letters of support from elected officials, including Columbus City Councilman Rob Doran and several others.
Wex Workers United member Jo Snyder, a learning and practice programs coordinator for the Wexner Center, who has been organizing her co-workers since the very beginning, is excited and overwhelmed by the result.
"This is a huge victory for all of us at Wex Workers United. We are so excited about what this means for Wexner Center for the Arts employees and everyone who stood with us and believed in our goal to win our union and make real change," Snyder said. "Employees deserve a seat at the table and the ability to make our workplaces safer and more equitable. It's no longer just a line in a mission statement – we are ready to see it apply to everyone, including Wexner Center employees."