Evitan huelga: empleados de Kaiser Permanente en California logran acuerdo provisional con su empleador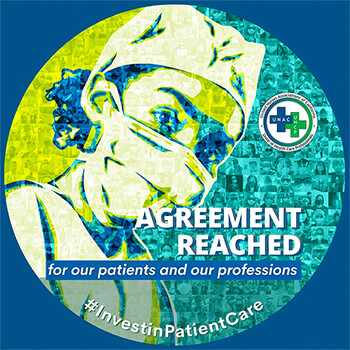 LOS ANGELES – Trabajadores de cuidado de salud que son miembros de AFSCME han logrado un acuerdo provisional nacional con ejecutivos de Kaiser Permanente, evitando así una huelga planeada para empezar el lunes de esta semana en California.
Miembros de United Nurses Associations of California/Union of Health Care Professionals (UNAC/UHCP) – unión afiliada con AFSCME que representa a 22.500 profesionales en cuidado de salud – y otros miembros de Alliance for Health Care Unions lograron un acuerdo provisional con ejecutivos de Kaiser Permanente el sábado por la mañana.
Este acuerdo provisional le pone fin a meses de negociaciones y evita la que hubiera sido la huelga más grande en el país en lo que va del año.
Uno de los temas principales de contención entre los empleados y los ejecutivos de Kaiser Permanente era la implementación de una estructura salarial de dos niveles que les hubiera pagado a nuevos empleados mucho menos por el mismo tipo de trabajo, al mismo tiempo agravando el problema de la falta de personal. Trabajadores miembros de UNAC/UHCP votaron abrumadoramente en octubre por autorizar una huelga para oponerse a esta propuesta salarial, la cual hubiera dificultado aún más la contratación de nuevos trabajadores durante una crisis nacional de dotación de personal de cuidado de salud.
De ser ratificado por una mayoría de los miembros de UNAC/UHCP, el acuerdo entraría en vigor retroactivamente el 1 de octubre de 2021.