Week Ending May 27, 2022
Infant Formula Crisis
House passes the Traumatic Brain Injury and Post Traumatic Stress Disorder Law Enforcement Training Act & the Public Safety Officer Support Act
UDW/CCPU/AFSCME member testifies in support of investing in our child care providers
Infant Formula Crisis
Last week, President Biden invoked the Defense Production Act to increase production of baby formula within our borders and speed up formula shipments from overseas. Congress also passed the Access to Baby Formula Act, which will provide federal agencies with flexibility to help vulnerable WIC-eligible families continue to buy safe infant formula. It is now up to the Senate to finish the job and approve the House-passed Formula Supplemental Appropriations Act of 2022, and it must do so quickly to help parents who are struggling to feed their children.
Read more on the AFSCME Now Blog about our call for Congress to address the infant formula crisis.
House passes the Traumatic Brain Injury and Post Traumatic Stress Disorder Law Enforcement Training Act & the Public Safety Officer Support Act
During Police Week last week, the House passed Rep. Bill Pascrell's (D-N.J.) bill to create and provide enhanced training to help law enforcement and first responders better recognize and treat people suffering from traumatic brain injury (TBI) and post-traumatic stress disorder (PTSD).
The House has also passed the Public Safety Officer Support Act, bipartisan legislation sponsored by Rep. David Trone (D-Md.) that would expand eligibility for the Public Safety Officers' Benefits program to include stress and trauma-related injuries and death by suicide for law enforcement officers and their families.
It is now up to the Senate to act on both of these critically important bills to provide training and benefits to public safety officers across the country.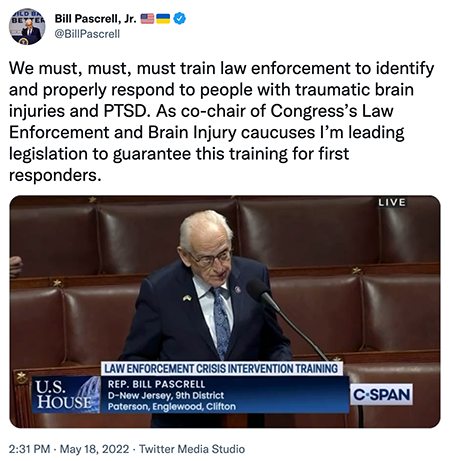 UDW/CCPU/AFSCME member testifies in support of investing in our child care providers
Nancy Gonzales is a family child care provider and member of the 20,000-member strong United Domestic Workers (UDW)/Child Care Providers United (CCPU). This week, she testified before a House subcommittee regarding the critical need for robust investments in the Child Care Development Block Grant so that we can help families and increase pay for providers. Across the country, child care providers are paid poverty-level wages – roughly $12.24 an hour on average, which is below minimum wage in many states. Nowhere in this country is that a livable wage. Family child care providers generally charge and earn even less.