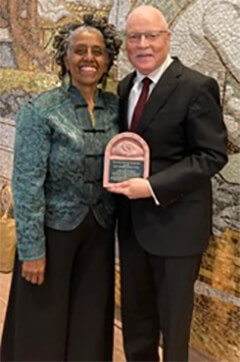 AFSCME President Lee Saunders was honored Wednesday by the Labor Heritage Foundation with its 2022 Solidarity Forever Award.
According to the Labor Heritage Foundation, the award recognized Saunders' "outstanding leadership in commemorating the 1968 Memphis Sanitation Workers' Strike and for inspiring us in the struggle for racial and economic justice."
I AM 2018 was a yearlong commemoration of the 1968 strike and the role that Dr. Martin Luther King Jr. played in it. Dr. King was in Memphis supporting and marching with the strikers when he was assassinated. One of I AM 2018's goals was to build a movement of dedicated activists who would continue the unfinished work of realizing Dr. King's dream.
The Labor Heritage Foundation is a nonprofit organization that preserves and promotes knowledge of the cultural heritage of the American worker through the arts. The event where Saunders was honored, "Solidarity Forever," was held at AFL-CIO headquarters in Washington.
It was attended by AFSCME leaders present and past, including Secretary-Treasurer Elissa McBride, Secretary-Treasurer Emeritus Bill Lucy and longtime AFSCME activist, organizer and former executive vice president of the AFL-CIO, Arlene Holt Baker.
In prepared remarks, Saunders accepted the award on behalf of AFSCME's 1.4 million members and recalled not only the historic events of the strike, but the strike's legacy to this day.
"I'm grateful for this opportunity to once again honor the Memphis sanitation strikers of 1968," Saunders said. "Their defiant slogan wasn't just about higher wages and better working conditions; it was about asserting their humanity: I AM A MAN. It was a moment that cemented AFSCME's role as an influential voice in the civil rights movement. And it was the clearest illustration of a fundamental truth – that economic justice cannot be separated from racial justice."
Saunders bridged the sanitation workers' strike to the fight for racial justice today, emphasizing that the lessons of more than 50 years ago are as relevant now as they were then.
"The values that were at stake then are just as important today," Saunders said. "In many ways, we are fighting the same battles – systemic racism, entrenched inequalities, attacks on voting rights and our democracy. We are still saying to America: 'Be true to what you said on paper,' as Dr. King put it in his Mountaintop speech in Memphis the night before he died.
"I AM 2018 was not just a commemoration, but a call to action – a call to action to fight for freedom and justice today … a call to action to make change at the grassroots today … a call to action to educate, organize and mobilize in our communities today."
Saul Schniderman, former president of the Library of Congress Professional Guild, AFSCME Local 2910 and a former executive board member of AFSCME District Council 20, serves as the chair of the Labor Heritage Foundation, and Elise Bryant, who has spoken at past AFSCME Black History Month events, serves at its executive director.
Other labor leaders participated in the event, including Tim Driscoll, president of the International Union of Bricklayers and Allied Craftworkers; Randi Weingarten, president of the American Federation of Teachers, and D. Taylor, president of UNITE HERE.